National Hog Farmer
November 15, 2013
By Joe Vansickle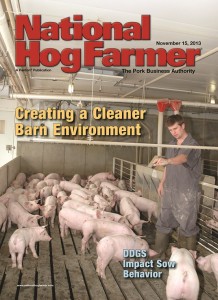 Preliminary results using cleaning technology in barns show promise.
Minnesota swine veterinarian Gil Patterson looks for three things when he walks into a hog barn:  feed, water and air quality.
"You've got to have those things right before you can really dig into other issues.  If there is a dusty, poorly ventilated environment, then it is uncomfortable for both pigs and farm employees, often leading to reduced growth and poorer-quality chores," says the St. Peter, MN, Swine Vet Center clinician.
Continue reading: