Leaders from the swine industry across the globe will be coming to the beautiful state of Minnesota this weekend. They are coming not just to see the beautiful fall colors, but to attend an internationally acclaimed Swine Conference.  The Allen D. Lehman Swine Conference, put on by the University of Minnesota Veterinary Medicine's continuing education program, will be at the St. Paul River Centre in St. Paul, Minnesota on Sept. 15-18, 2012.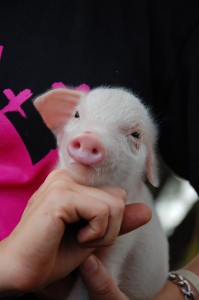 Allen D. Lehman was a University of MN Extension Veterinarian who initiated the conference in 1974 to give practitioners a forum to discuss important issues in the swine industry.  Lehman worked to define the links between swine disease and swine production. After Lehman's death in 1994, the conference was renamed in his honor for his dedication to education in practicing veterinarians. Today, hundreds of participants from over 20 countries attend.
This conference is a great place to discuss best practices, challenges, and the latest innovations in the swine industry. Besides the great conference and pre-conference programs and poster presentations, many of the attendees greatly value the networking that happens in the seminars, hallways, and exhibit hall.  The staff from Baumgartner Environics looks forward to talking with veterinarians and graduate students about swine disease, swine production, and how EPI Air offers solutions through cleaning the air of dust particles for marked improvement in animal growth and livability.
Come visit us in booth #29 at the 2012 Allen D. Lehman Conference in St. Paul, MN!
Want to see the other events we are attending? View BEI's other upcoming trade shows.